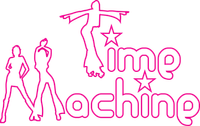 With more than 750 shows to date, Geneva based TIME MACHINE was founded in 1999 and has since earned a great reputation as one of the very best and most entertaining live Swiss bands, confirmed after its huge successes at the 2018, 2016, 2013, 2009 and 2008 Montreux Jazz Festival as well as countless private, corporate and public shows worldwide in places like Beijing, Venice, Florence, Marrakech, Birmingham, Verbier, Zermatt, Zurich, Basel, St-Moritz ...

One of the most requested 100% live party bands in Switzerland, TIME MACHINE collaborates with the leading event management companies and is the band of choice for the largest, most exclusive and demanding events (PATEK PHILIPPE gala party at Baselworld 2016 and 2017, Baume et Mercier Hollywood stars-studded party at SIHH 2011, World Economic Forum, HUG staff party in front of 5000 guests at the GENEVA ARENA, International Olympic Committee garden parties, staff parties for Rolex, Nespresso, Roche, Philip Morris International, Total, Chopard, Crédit Suisse, Procter & Gamble, United Nations Geneva headquarters, leading charity gala events like La Nuit des Neiges, Le Bal du Printemps, MEDAIR night, KyFéKoi, PIMALI ...).

TIME MACHINE has also become a reference for important popular sporting and outdoor events (Fête des Vignerons 2019, AIR14 Airshow, Tour de France, Alpine Ski World Championships, FIS Alpine Skiing Worldcup, World Orienteering Championships,  Foire du Valais,Verbier X-Treme, Athletissima, Gymnaestrada, Eurofoot, Comptoir Suisse, Foire Internationale de la Roche-sur-Foron, Geneva Festival ...) in front of large enthusiastic crowds.

Since January 2017, TIME MACHINE is proud to be the resident band at the Montreux Jazz Café at Geneva airport, with a monthly afterwork show that is regularly full.
TIME MACHINE has the professionalism and talent to perform the classic disco-funk and soul hits of some of the biggest legends in music history, such as Michael Jackson, Aretha Franklin, Stevie Wonder, ABBA, Bee Gees and Donna Summer to name a few.

TIME MACHINE's lineup includes two highly charismatic and talented singers-dancers and a tight and groovy 4 members' rhythm section.
Much more than a plain cover band,TIME MACHINE puts on a 100% live, festive and dynamic show including choreographies and pays tribute to an era - the seventies and eighties. In glittering outfits, the band embarks on a journey through time, to the delight of listeners of all ages who dance and sing along, often after the very first song !

Celebrities like PHIL COLLINS, FRIDA LYNGSTAD (ABBA), ROGER TAYLOR (QUEEN), KEITH FORSEY (DONNA SUMMER, BONEY M) and the late CLAUDE NOBS (MONTREUX JAZZ FESTIVAL FOUNDER) have enjoyed several shows and personally congratulated the band.

TIME MACHINE is, above all, the exceptional musical synergy of a unique group whose enthusiasm and energy fulfill its ultimate goal: to offer you an exciting and unforgettable evening, whether you are 20 VIP guests or 10000 party animals, anywhere in the world !

Groupe de reprises, groupe de reprises disco, disco-funk, Genève, Geneva, Suisse, reprises disco-funk, cover band, tribute band, function band, party band, parties, best live Swiss band, Hochzeit Band, soirées d'entreprises, soirées de mariages, soirées du personnel, dîner de gala, weddings, fêtes de village, birthdays, anniversaires, animation, groupe de bal, orchestre de bal, CE, comité d'entreprise, agences d'evénementiel, événements, Anlass, Anlaesse, corporate, luxury, prestigious, exclusive, high-end, jetset, hollywood, incentive, team building, hospitality, mice, soirée vintage, 70's, seventies, Motown, soul, flower power, VIP, DEM, destination management